Fabulose's New Vegan Leather is Climate Friendly and Durable
Interview with the founders of Fabulose, an innovator of vegan leather and carbon footprint reduction in fashion.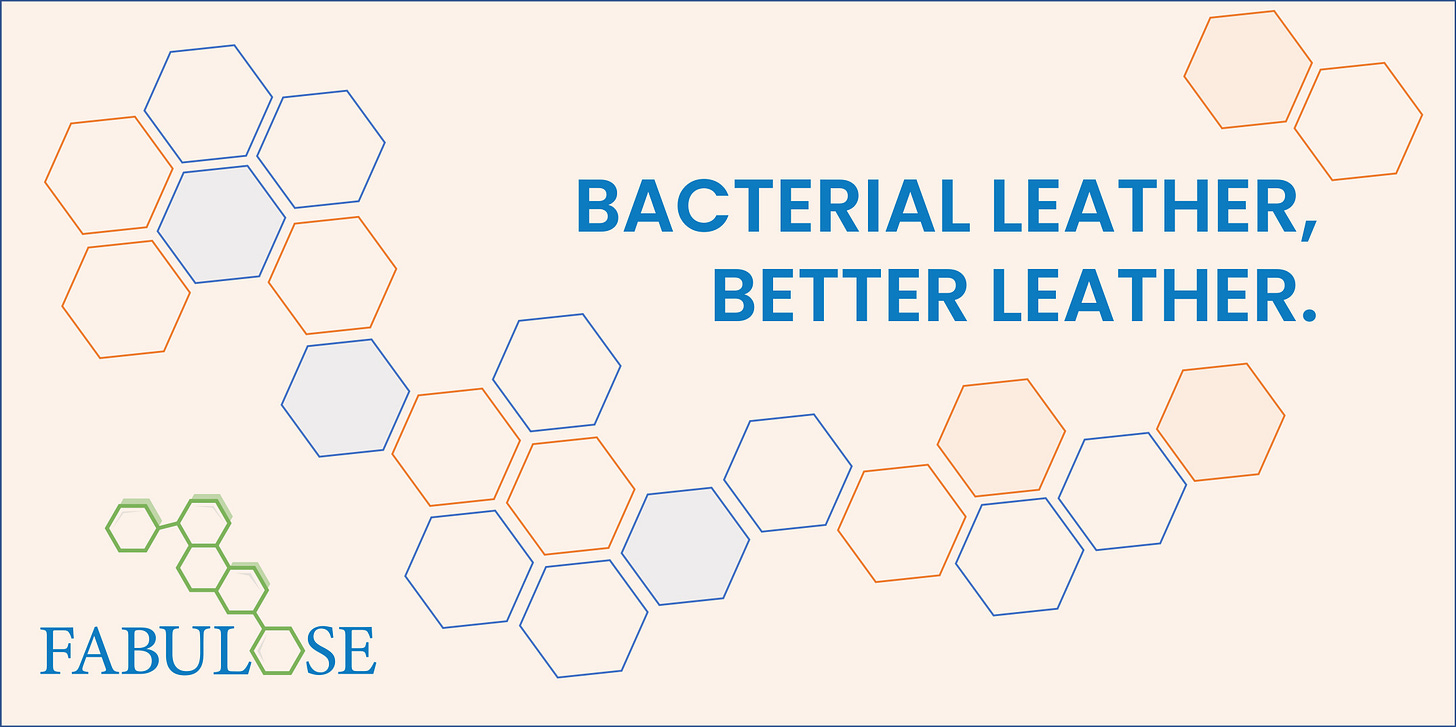 Fabulose is developing durable vegan leather with the goals of making conventional leather obsolete and reducing carbon emissions and waste. After a year of R&D, they developed a polymer that makes their leather exceed the quality of conventional leather.
They are preparing to raise a round of funding so they can scale their leather production for large apparel companies. By replacing leather with a superior option, their innovative product reduces carbon emissions, methane emissions, deforestation, freshwater consumption, and industrial waste.
I spoke with the husband-and-wife founding team of Fabulose, Prabu Vijayan and Mohanalaxmi (Mohana) Indramohan, about their founding journey, impact-first mission, and growth plans for the next year.
Subscribe to learn more about climate tech and the founders building in it.
Jacob Sheldon: Tell me about yourselves!
Prabu Vijayan: For about 17 years, I have been researching fermentation technologies in the sustainability space. Designing, scaling, building teams, and building technologies for sustainability including sequestering CO2 through fermentation and producing bioplastics and bioethanol from industrial wastes via fermentation.
Mohanalaxmi Indramohan: I have a PhD in Microbiology and Immunology and my primary research focus for more than a decade has been the mechanism of host immune responses during infectious diseases and inflammation.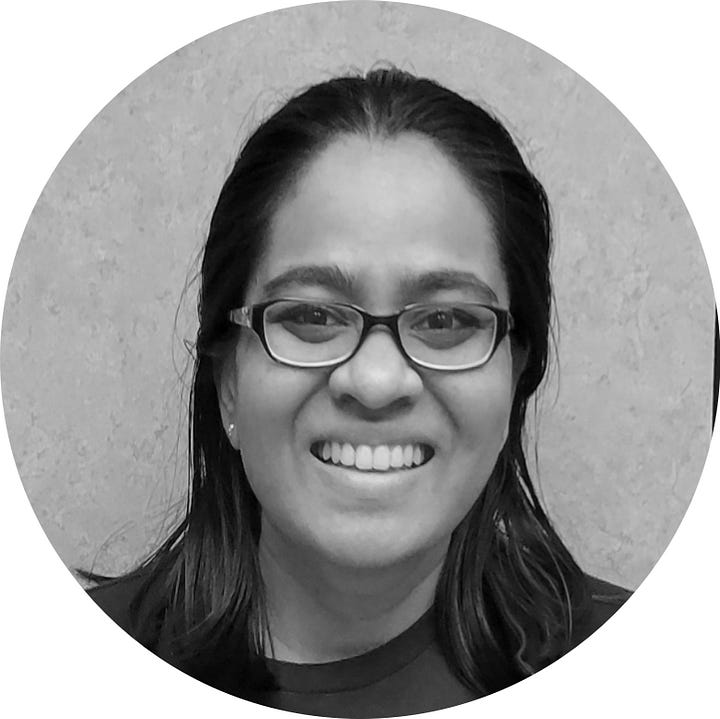 Jacob: Can you describe what Fabulose does?
Prabu: Fabulose produces vegan leather from biopolymer obtained from the fermentation of industrial waste that is currently being dumped into landfills and oceans. Our goal is to make conventional leather obsolete by providing a compelling alternative. Our vegan leather can meet leather's price at scale, is stronger than leather, durable, and versatile yet at an incredibly light environmental footprint.
Jacob: What led you to start this company?
Prabu: The impacts of climate change are obvious right now to every one of us. If you really look into what is driving it and what is the easiest way to reverse climate change, we can say it's consumer behavior. What we can buy has a direct or substantial impact on climate. If you look at what is one of the major environmental offenders in the fashion world, it is the leather industry which has a massive environmental footprint. We believe that innovating to fix the environmental impact of leather can be one of the most impactful ways to fight climate change.
Jacob: What came first, this focus on fighting climate change or the focus on fixing leather?
Mohana: I think both go hand in hand. Unless we can find sustainable ways to be fashionable, we will be in deep trouble. You've to be passionate about fashion but also find sustainable ways to do it. I think climate action comes first here. It is very hard to think about anything without thinking about the climate angle right now because all of us are affected by it. It's getting warmer, and I don't think we have a choice.
Jacob: Did either of you have experience with vegan leather before starting this company?
Mohana: Vegan leather as a technology, no. Prabu has experience scaling fermentation, and I have microbiology skills from my research career, and we put it together.
Prabu: The fun part is how this was an easy fit for both of us. I have spent years studying biopolymers and secondary metabolites, and I have a background in scaling fermentation technologies. Mohana has incredible experience in biological pathways. With our complementary expertise, it was a natural fit to tackle leather with the biopolymer approach. Our goal was to develop a technology that could be immediately scaled.
Jacob: What is the specific problem you're solving?
Prabu: Climate change is really the focus, and the easiest way to impact that for us is by providing a compelling alternative to leather. We can meet leather's price at scale while being so much more sustainable and at the same time meeting or exceeding performance specs.
Jacob: If you weren't tackling leather and doing a really great job with it, what would you be doing?
Prabu: We have this deep technical understanding of biopolymers and how they can be used to make great biomaterials. When we talk about leather, we are really talking about it as a biomaterial, and its applications are plentiful. In the biomedical world, biomaterials play a huge role. If there is no need to tackle, say, climate change, and with the expertise we have in biotech, we would be happy to use that knowledge to make an impact in the biomedical field.
Jacob: How do you see and feel climate change personally in your day-to-day life?
Prabu: We are currently traveling in India to establish supply chains for Fabulose. We grew up here and my side of the family is still involved in agriculture, and what we have repeatedly been hearing from our friends and family is that the rain patterns are changing, and it has consequences here where 1/3rd of the land is rainfed. We noticed that the weather patterns are not the same as they were five or ten years ago. It's hard not to see that we are experiencing climate change.
Jacob: Are there any specific places that you can think of where you've been to and you see such a noticeable change?
Mohana: As we drive through villages here, we clearly see the farming cycle is out of sync, especially in South India. Growing up we would see these rivers, and now many of them are dry. That's one prominent example. I think if we're not very prudent about how we use our water supply, we may have major challenges.
Jacob: Can you tell me about how creating vegan leather fights climate change?
Prabu: The reason we're so excited about Fabulose is that when compared to conventional leather we use just a fraction of the space and water. It takes us about two liters of water to make one square foot of Fabulose leather. We can even use carbon dioxide off gas to produce it. On the other hand, 80% of deforested amazon is used for ranching. Just 1 sq m of hide generates 16,500 L of wastewater and 110 Kg CO2 emissions.
Mohana: We use a wide variety of industrial waste as a nutrient source in the fermentation process which is another major environmental advantage.
Jacob: Is the quality as good or better currently, or is that something you're working on?
Prabu: Our material is stronger than leather and we are working on achieving the product versatility of leather so we can compete with it in all categories. Unlike leather, we do not need to treat our material with harsh chemicals which in itself lends several advantages for the planet and the people.
Jacob: Who will be buying this from you, brands or factories?
Prabu: Both. We have our production and distribution partners, so we understand that brands have been looking for sustainable alternatives for leather due to consumer demand. The demand is deep, and brands want the factories to produce with sustainable alternatives. This goes for vegan leather car seats, handbags, wallets, clothing, and more.
Jacob: How large is this market?
Prabu: The global market for leather and vegan leather is expected to cross $700 billion and $90 billion respectively by 2030 with CAGR of vegan leather at over 10%. Wherever there is industrial waste, we can make leather there. You don't have to ship from, say, Brazil to Asia, which opens up the market tremendously for our product. This also encourages local manufacturing. There is a big space for us to make a difference.
Jacob: Is the team currently just the two of you?
Prabu: We are the core team, although we have terrific fractional staff and contract research organizations that work with us. But we're now looking to grow and hire.
Jacob: Do you have any immediate hires that you're trying to make in the next few months?
Prabu: Once fundraising is complete, we will build out a larger R&D team and onboard a sales team. It will be about eight folks in the next couple of months to really keep pace with the breakthroughs we have achieved in R&D so far and to commercialize that.
Jacob: So, you're currently fundraising. How is that process going?
Prabu: We just got started after waiting for data to show that we are better than the current options in price and performance. We're now just a few weeks in and the response is great. We're hoping to form some long-term partnerships pretty soon.
Jacob: How do you two as a team, as a married co-founding team, work together?
Mohana: It's easier in the sense that we both had worked on working well with each other as a couple much before we started Fabulose. That allows us to be realistic and transparent especially when we have contradicting ideas. I think what really matters is that we look at the company objectively as an entity and set measurable goals to progress. We are clear about where our professional strengths are and set specific goals for us which will move the company forward. 
Jacob: How do you quantify your impact on the climate?
Prabu: We are building models right now to track that as we understand that we could impact the climate in multiple ways. Apart from what I've mentioned already, there's also the supply chain aspect. Plus, we're minimizing industrial waste, saving water, saving forests, and cutting down major greenhouse gas emissions. The exact carbon and methane emissions reduction is still a work in progress. In a month or two we should have a solid handle on our numbers to accurately answer that question as there is a range of waste we can utilize which can all provide various positive impacts.
Jacob: What is one thing you do really well as founders?
Prabu: As a founder-couple of an early-stage startup, not driving each other crazy is very important in our opinion. It's great to help the world be sustainable, but we can't lose our sanity in the process. We both make a conscious and proactive to have sustainable mental health. People do different things to relax, and for us, it is yogic breathing techniques. Sudarshan Kriya breathing exercise is effective for us in achieving sustainable mental health. That is a conscious effort we take to function effectively.
Jacob: What's your biggest blocker right now?
Mohana: A couple of months ago, if you'd asked this we'd have given you lots of answers. But right now, we are in a happy stage. We have achieved what we set out to do, and we're just ready to hit greater scale.
Prabu: We were waiting for the day we could showcase a really good alternative to leather. Now we are ready to go, talk to mission-aligned people in the investor community, and scale.
Jacob: Why had no one cracked this before?
Prabu: Many companies have in their own right addressed the sustainability angle in various dimensions, and we went on this path of creating an alternative that offers such a compelling value that it becomes easy to pick our product over leather. We started off with this as the goal and not just to make a greener alternative. This is where we spent a lot of time strategizing how we should structure the technology, where we could make it, and how to make scalability easy.
Jacob: What is your goal for the company this year?
Prabu: We plan to pilot the product in Q3 and have it commercially available in Q4, and it's quite within reach.
If you enjoyed this article, feel free to share it and subscribe to Warming Up to Climate Tech. This publication is brought to you by Inbound Growth Co - content for climate-focused brands.